Inspiring venues, exceptional experiences.
If you have a smaller group and are looking for a way to meet safely, Detroit Foundation Hotelís smaller foot print means you have fewer crowds to navigate and plenty of private spaces for collaboration and getting things done.
Our latest offer.
Curated for Connections: Book a gathering at Detroit Foundation Hotel before 2021, and youíll be eligible to receive up to 6% off your master bill, plus your choice of perks from our menu of extras. And flexible attrition and cancellation terms! The more you spend, the more extras you enjoy, the more you save off your final tab.
Learn More
FIFTH-FLOOR EVENT SPACE
Surrounded by the cloud-scraping buildings of Downtown, our event space offers head-turning views and a breezy balcony, as well as a hypnotic light installation by local artist Patrick Ethen.
– 80 Guests Maximum with a plated dinner and dance floor
– 120 Guests Maximum with a strolling dinner
This Space Features
Sweeping skyline views of the city
Outdoor terrace can hold up to 15 people, reception style
Audio-visual capabilities
Complimentary Wi-Fi
Extra Details
Dimensions
78ft x 24 ft
Max Capacity
120
Ceiling Height
12-foot
MEETING ROOM
When it's time to walk the walk, our meeting room has all the bases covered. It's easy on the eyes too, thanks to a mural by local artist Dino Valdez.
This Space Features
Mounted flat-panel television
Complimentary Wi-Fi
Connected to board room via air wall
Extra Details
Dimensions
511 sq. feet
Capacity
30 people
BOARDROOM
No more fluorescent-lit rooms. No more sleep-inducing meetings. When it's time to get things done, our boardroom's elegant table, crafted by Anton Maka Designs, helps set the stage.
This Space Features
Custom-built table
Mounted flat-panel television
Complimentary Wi-Fi
Extra Details
Dimensions
340 sq. feet
Capacity
14 people
COMMISSIONER'S SUITE
Back in the day, this was the Detroit Fire Department Chief's residence. Clearly, the big guy had a taste for the finer things. Enjoy some old-school luxury in this stunning suite. Great for unconventional meetings and perfect for a hospitality room.
This Space Features
King bed (sleeps two)
Separate living area, game area, and sleeping area
Pool table
Small meeting table
Extra Details
Dimensions
900 sq. feet
PRIVATE DINING ROOM
Here, acclaimed Chef Thomas Lents prepares one-of-a-kind meals in an unforgettable space. Itís the type of experience only a chef who has achieved a coveted two-star Michelin rating can offer. This space is perfect for social gatherings, corporate meetings, and everything in between
This Space Features
Natural light
Available for daytime meetings, evening events and small receptions
Chef's choice menu
Contact hotel directly to book
Extra Details
Capacity
Tailored for groups between 10 and 30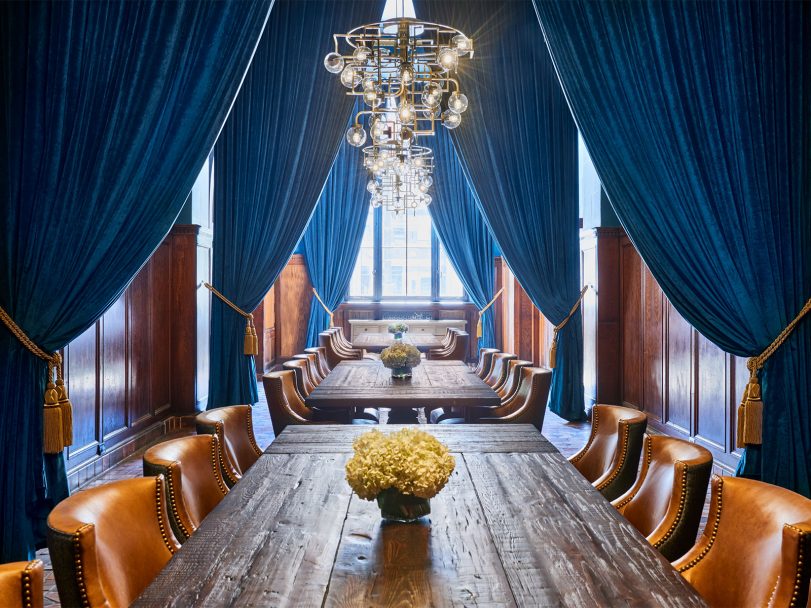 THE PATIO AT THE APPARATUS ROOM
Soak up the summer with bites, booze and great views on the patio at The Apparatus Room.
This Space Features
Outdoor space can hold up to 50 people, reception style
Pet-friendly
City views
Extra Details
Capacity
Max capacity 50 people
Request Event Information
Detroit Foundation is a one-of-a-kind location for a variety of events, including corporate gatherings, dining and standing receptions. Please complete this form to request a proposal for your upcoming occasion.